Podcast: Play in new window | Download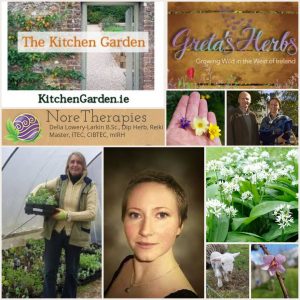 On the show this week, it's all about Herbs!
There's a recipe for Potato and Wild Garlic soup (Wild Garlic is coming close to the end of it's season). There is also a recipe for savoury Cheese and Herb scones.
We talk to Greta McCarthy O'Brien on the Dingle peninsula about her lovely book "Greta's Herbs, Growing Wild in the West of Ireland".
We also talk to Delia Larkin a Herbal Therapist about her work at Nore Holistic Therapies. Delia uses Herb Teas, Tinctures, Salves and powders to treat a wide variety of common ailments.
As usual, there were also some plants and animals to look out for this week and, of course, some jobs to do in the Garden.
Listen on Mixcloud or download a podcast by clicking the 'download' link at the top of the page: