Podcast: Play in new window | Download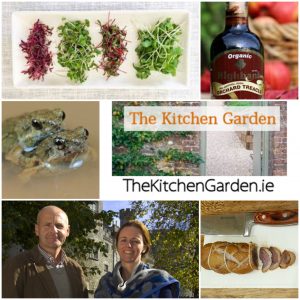 On the show this week there's lots of food to try. Mags brings along some new Orchard Treacle from Highbank Orchards, unusual Asian ingredients, micro-greens and sparkling water kefir from King of Kefir. I also chat about smoked Duck Breast.
We cover outcomes from the National Biodiversity Conference.
In Nature Notes, Mags tells us all about Frogs and how we might spot them.
There are also some jobs to do in the garden now:
– Identify a part of your lawn that you can 'manage for wildlife' (leave alone and not cut)
– Prepare seeds beds now for veg and cover some areas with fleece to warm up.
– Lift, split and replant snowdrops
– Prune winter flowering heather
– Mulch or feed perennial veg, like asparagus and artichoke
– Last chance to prune the Autumn flowering raspberries.
Listen on Mixcloud or download a podcast by clicking the 'download' link at the top of the page: