Podcast: Play in new window | Download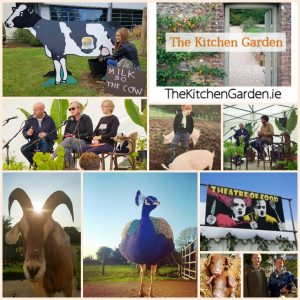 On the show this week we hear about some of the 'secret ingredients' that Chefs like to use to improve their dishes.
Mags brings in a delicious Courgette & Mint Soup and talks about pickling and fermentation and gives us some recipes from The Cultured Club by Dearbhla Reynolds.
I report from the Voxpro Garden Festival and we preview the Theatre of Food at Electric Picnic.
We talk to Martha Roberts from The Decent Company in Wales about her Smallholding and juggling a day job in the city with keeping Pigs in rural Wales.
We have our monthly Smallholding slot, where we talk about some seasonal jobs which need to be done with the animals.
There's also some music and, of course, Jobs to do in the Garden:
Harvest your fruit trees – plums, early varieties of apple
Freeze gluts of soft fruit on trays for a couple of hours and then bag them up to use over winter.
Prune the fruited stems of your blackcurrant bushes after harvesting.
Hedges can be given a final trim now before they stop growing.
Courgette and Mint Soup
1 cup onion, chopped
1 cup potato, chopped
3 cups courgettes, sliced
Vegetable stock
Grated zest of half lemon
Good handful of fresh mint, chopped
Olive oil
Salt and pepper
Method
Saute onion and potato for approx 10 mins.
Add courgettes, saute for a few minutes.
Add stock and lemon zest.
Cool until veg are cooked through.
Add mint and season
Blend to a smooth consistency
One Pot Wonder Potato Dinner!
Ingredients (decide on quantity based on number of diners!)
Left over cooked/boiled potatoes, sliced
Streaky rashers, chopped
Cherry tomatoes
Scallions, sliced
Eggs
Cheddar cheese, thinly sliced
Parsley
Method
Fry streaky rashers until starting to crisp
Add potato and allow to crisp.
Make a space in the centre of the pan
Add scallions, tomatoes to the potatoe and rather mix.
Crack the eggs into the centre.
Place the sliced cheese on top and scatter the parsley.
Turn heat down. Put lid on the pan and cook until cheese has melted.
Listen on Mixcloud or download a podcast by clicking the 'download' link at the top of the page: