Podcast: Play in new window | Download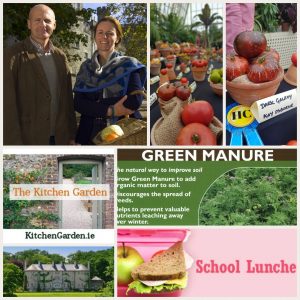 On the show this week Mags gives us some ideas, tips and recipes for tasty and nutritious School Lunches. See her ideas below.
In Food News, we hear about Robotics in Food Service.
We both report from the Totally Terrific Tomato Festival in the National Botanic Gardens.
There's a remider of the schedule for the upcoming Voxpro Urban Garden Festival in Cork.
In Nature Notes, it's Meadow Saffron and Moths.
I bring a group of anglers to Mount Juliet to try for some Trout from the River Nore and I talk to Dan O'Neill, Fishery Manager on the estate.
Lunch box ideas
Secondary school Kids
Cold pasta – add some or all of the following:
grated carrot
Sweet corn
Grated cheese
Cucumber
Scallions
Tomatoes
Nuts (if allowed)
Parsley
Spray spuds for blight
Start harvesting your maincrop potatoes as the leaves yellow and die back. Try storing your potatoes in hessian sacks which exclude light but allow adequate ventilation.
Lift and dry onions, shallots and garlic once the foliage has flopped over and yellowed. Store them in onion bags to prevent moulds developing.
Cut back leaves on grapevines to let the sun ripen the fruits
Remove the lower leaves of cordon tomatoes up to the lowest truss, to let more light and air reach the fruits
Harvest tomatoes, cucumbers and chillies regularly to encourage more fruits to form
Sow green manure to fill any bare ground
Listen on Mixcloud or download a podcast by clicking the 'download' link at the top of the page: