Podcast: Play in new window | Download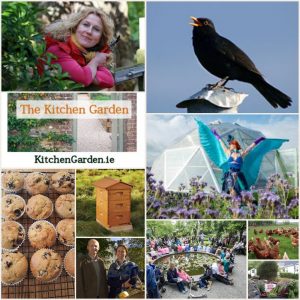 On the show this week we have recipes for Blackberries & Beetroot, both abundant at the moment.
We talk about the true cost of Free Range Eggs and how you can adopt a Beehive!
We hear from Kitty Scully about the upcoming Voxpro Urban Garden Festival in Cork.
In Nature Notes, it's the Blackbird, one of our most common birds.
Blackberry Buns
Makes approx 20
Ingredients 
2 eggs
100ml natural yogurt
75ml sunflower oil
1 tsp vanilla extract
175g  plain flour
50g oat flour (porridge oats blitzed)
(If not using oat flour then use 225g plain flour)
3 tsp baking powder
1/4 tsp baking soda
1/4 tsp salt
100g wholemeal flour
100g brown sugar
A few handfuls of fresh or frozen blackberries
Method
Set Oven at 180°. Line bun tins with paper cases.
Whisk eggs, milk, yogurt, oil and vanilla in a large mixing bowl.
In another bowl sift the flour, baking powder, bread soda and salt. Add the oat flour, wholemeal flour and sugar and mix.
Fold the dry mixture into the wet ingredients. Stop as soon as it comes together. Do not over mix. Fold in the blackberries carefully.
Divide the mixture into the bun cases and cook in the preheated over for approx 15 minutes.
Cool on wire tray
Enjoy!
There's poetry and of course some jobs to do in the garden:
Spray spuds for blight
Mow wildflower meadows now to help scatter the seeds.
Cut back leaves on grapevines to let the sun ripen the fruits
Remove the lower leaves of cordon tomatoes up to the lowest truss, to let more light and air reach the fruits
Harvest tomatoes, cucumbers and chillies regularly to encourage more fruits to form
Sow green manure to fill any bare ground
Keep deadheading border plants, unless you want to collect their seeds
Listen on Mixcloud or download a podcast by clicking the 'download' link at the top of the page: