Podcast: Play in new window | Download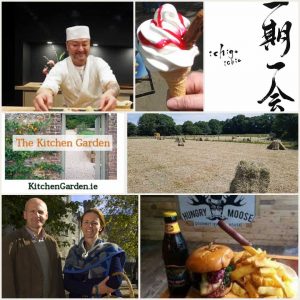 On this week's show I tell the story of the 99 Ice Cream Cone.
I talk to Chris Telford, owner of The Hungry Moose in kilkenny, recently voted Ireland's Best Burger restaurant.
I report from Ichigo Ichi in Cork and talk to chef/proprietor Takashi Myazaki.
In Nature Notes I describe a favourite plant of mine, Travelling Sailor or Ivy-leaved toadflax.
There are 10 tips for helping you manage your garden during a heat wave from Dee Sewel, Greensideup.ie.
There are other jobs to do in the garden this week too:
Water plants, Ensure that soil in hanging baskets and patio planters is kept moist.
Regularly water trees and shrubs that were planted last autumn and winter. Their roots won't have had a chance to fully develop yet.
Weed and spread compost from the compost bin over the borders and vegetable patch. This adds valuable nutrients to the soil and acts as a mulch, to retain moisture and reduce weed growth. Ensure that the soil is moist before adding mulch.
Listen on Mixcloud or download a podcast by clicking the 'download' link at the top of the page: