Podcast: Play in new window | Download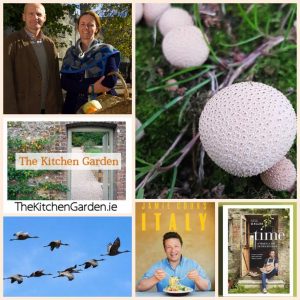 On the show this week we review 2 recent Cookbook publications: Gill Meller's Time and Jamie Oliver's Jamie Cooks Italy.
We take a look at some events taking place on Culture Night.
There are tips for Mushroom Hunting – to help you tell the tasty from the troublesome!
In Nature Notes, Mags tells us all about Migration.
As usual there are also some jobs to do in the Garden this week including:
Finish clipping hedges
Plant spring bulbs
Sow grass seed for a new lawn or lawn repair
Plant spring cabbage
Continue to tidy up and remove old crops and weeds
Pick apples and pears as they become ready.
Listen on Mixcloud or download a podcast by clicking the 'download' link at the top of the page: