Podcast: Play in new window | Download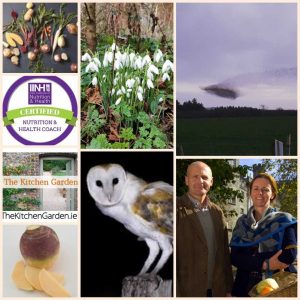 On the Show this week: there's the week's Food News (Great Restaurant Deals for January in the Irish Times and nominations now open for RAI Restaurant of the Year).
Mags talks about Root Veg, seasonal but often underrated foods for the Winter months.
Mags also gives us part 2 of her report on Barn Owls.
We are joined on the show By Declan Gilmore of Nude Nutrition a Performance & Sports Coach to hear how we might make some changes to improve our diet & fitness for the New Year. What's great about Dec's advice is that it's full of common sense!
In Ballyhale this week, we were lucky enough to witness a Murmuration of Starlings, so we discuss these amazing natural phenomenon.
There's a lovely seasonal Poem, "Snowdrops" by Alice Oswald (read by Sir Andrew Motion) and, of course, there are some jobs to do in the garden around now:
Get jobs out of the way now which you might not get to later in Spring or Summer when plants (and weeds) are growing
Tidy and clean pots
Clear Algae and Moss
Start to sow seeds in heated trays or a heated greenhouse
Listen on Mixcloud or download a podcast by clicking the 'download' link at the top of the page: