Podcast: Play in new window | Download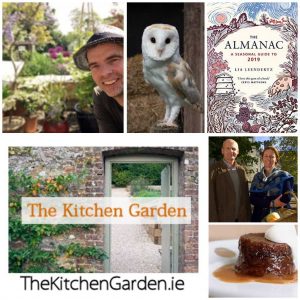 It's the first Show of 2019 and on the Show this week we discuss plans for the Show in 2019.
Mags gives us a recipe for delicious Sticky Toffee Pudding (below).
As it's a new year, there's a new Almanac to puruse and we speak to the author of The Almanac: A Seasonal Guide to 2019, Lia Leendertz.
We're also joined by Hugh Cassidy to hear about his new year in a new garden and some tips on what to be doing now in the garden.
In Nature Notes, Mags gives us the first part of her report on Barn Owls.
Sticky Toffee Pudding
170g Chopped Dates
1/2 pint boiling water
Tsp bread soda
170g brown sugar
250g Butter
2 eggs
170g Self raising Flour
1/2 tsp Vanilla extract
Sauce
113g Butter
6 tablespoons cream
140g brown sugar
1 tsp Vanilla extract
Method
Pour water over the dates, bring to the boil. Remove from heat and add the bread soda. Set aside to cool.
Cream the butter & sugar.
Add eggs & vanilla.
Fold in flour & date mixture
Pour into a buttered 7″ tin
Bake at 180° for 45 minutes
To make the Sauce
Put all ingredients into a heavy saucepan & heat.
Allow the mixture to bubble and ensure the sugar grains are dissolved.
Serve warm with whipped cream
Listen on Mixcloud or download a podcast by clicking the 'download' link at the top of the page: