Podcast: Play in new window | Download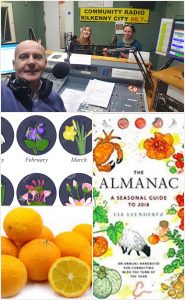 On the show this week, we introduce our Calendar of Gardens in Flower. Over the coming months we'll visit a garden at it's peak.
We speak to the author of 'The Almanac: A Seasonal Guide to 2018', Lia Leendertz. This lovely book revives the tradition of the rural almanac, inspiring us to get outside and connect with the seasons via foraging, seasonal eating, gardening and even star gazing.
Script writer Sian Quill joins us in studio to talk about her work on Fair City, TV ads and also being a vegetarian.
There's very little time for 'Jobs to do this week' but it is time for marmalade making and we talk a little about 'no dig gardening' and Charles Dowding's book "Dig Organic Home and Garden".
Listen on Mixcloud or download a podcast by clicking the 'download' link at the top of the page: