Podcast: Play in new window | Download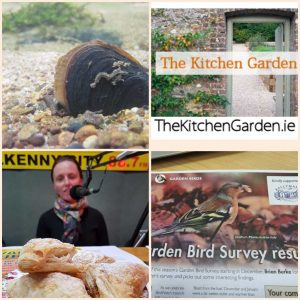 On the show this week:  Mags gives us here recipe for Mince Pies (with Marmalade),
We hear about "Fruit Shrubs" to drink.
In Food News; How your mood and stress levels affect your digestion.
In Nature: It's time for the Winter Garden Bird Survey and we hear about the Irish Fresh Water Mussel.
In the Garden there are some jobs to do this week, including:
– Plant up bulbs in pots for Spring Colour,
– Start a Mushroom Kit
– Spread Manure or Compost on Beds
– Plant Raspberry Canes
Mince Pies Recipe
Mincemeat
450g Raisins
225g Sultanas
225g Currants
450g vegetarian Suet
500g Dark brown sugar
2 cooking apples, grated
Grated zest and juice of 2 lemons
110g mixed peel
2 tablespoons marmalade
125ml whiskey
Method
Combine all the ingredients in a large bowl. Stir well and cover with a cloth
Set aside overnight.
Pastry (Makes approx 24)
275g butter
450g plain flour
75g ground almonds
50g icing sugar
2 egg yolks
20 -30ml milk to bind
Method
Combine the flour, almonds and sugar.
Rub in the butter so the mixture looks like breadcrumbs.
Make a well in the centre and add the egg yolks.
Stir gently, adding enough milk to form a dough.
Cover and refrigerate for 1 hour.
Roll out the pastry to approx 3mm thick and cut into bases (larger circles) and top(smaller circles or stars)
Grease the mince pie tin (bun tin) and gently line the tin with the larger circles. Fill with the mince meat. Dampen the edges with some water and place the top on.  Firmly pinch to seal. Snip the top (If not stars) with a scissors to allow the air to escape.
Brush with egg wash and bake in preheated oven (180°) for 25 minutes or until golden brown.
Delicious eaten warm!
Listen on Mixcloud or download a podcast by clicking the 'download' link at the top of the page: