Podcast: Play in new window | Download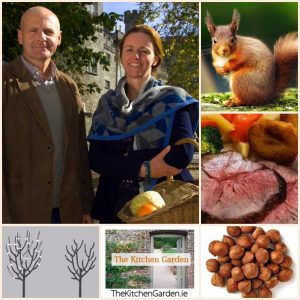 On the show this week there's a lot of Beef! How to Roast it, what to serve with it, how to know when it's perfectly done… Mage shares her recipe for Yorkshire puddings and Francis tells you how to make perfect gravy.
In the Kitchen we chat about Kombucha and Scobies.
In Nature Notes, we look at Forestation in Ireland and mistakes being made with Sitka Spruce plantations.
We also hear about the Red Squirrel a favourite of nature lovers.
In Wild Food, we look at Hazlenuts, abundant at the moment, where the Squirrels have left some! There's a recipe too for a Warm salad of sausage, bacon and hazlenuts (recipe below).
There's part 1 of our guide to Pruning Apple & Pear Trees.
In the Garden there are some jobs to be done right now:
– Collect Leaves and make leafmold
– Sow grass seed
Warm salad of sausage, bacon, hazelnuts and sage
(Hugh Fearnley Whittingstall)
(Starter for 2)
Ingredients
1 tbsp olive oil
4 rashers of streaky bacon or 50g pancetta, cut into strips
2 pork sausages
75g-100g fresh hazel or cobnuts, shelled
6-8 sage leaves
Small knob of butter
A few handfuls of rocket and/or flat-leaf parsley leaves
Mustard vinaigrette
3 tbsp olive oil
1 tbsp cider vinegar
1 tsp hot English mustard
Salt and freshly ground pepper
A pinch of sugar
Method
Put a medium-sized frying pan on the heat and add the olive oil, followed by the bacon or pancetta. Fry until it starts to colour and crisp, then remove and set aside.
Add the sausages to the pan and cook them gently in the bacon fat for 10-15 minutes until cooked through. Remove the sausages from the pan and cut each one into four pieces. Then throw back in the pan, along with the bacon, nuts, sage leaves and butter. Fry for a few moments more to heat everything through, then remove from the heat and keep the mixture warm.
Divide the dressed leaves between slightly warmed plates, then add the sausage and bacon mixture. Serve straight away, with or without bread.
Listen on Mixcloud or download a podcast by clicking the 'download' link at the top of the page: