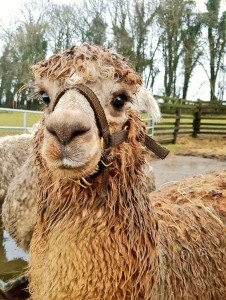 I have always wanted to keep Alpacas. The more I read or hear about them, the more I like the sound of them. Alpacas are famously:
Fearless protectors of other animals! They will take on even the cheekiest of foxes to keep poultry or lambs safe.
Healthy! Alpacas do not suffer from the myriad of diseases and ailments that sheep can be prone too.
Friendly! At the recent Smallholders Gathering in Kilkenny we led 3 Alpacas up and down the Parade in the Kilkenny through crowds of people and they happily paused to pose for photos.
Expensive! Which is why I haven't been able to justify keeping any, until now.
I recently went to collect 4 Alpaca from someone who no longer had the time to care for them. I'm really looking forward to welcoming these gorgeous creatures into the fold and training them so that I can take them on walks on the halter.